Easily personalize your 3D cover
Here's how to create your 3D cover. There are two ways to do it. To make it as easy as possible I created so called action for you. So all you have to do are just a few clicks. That's the easier way. If you want to do it all by yourself, I prepered a step by step tutorial here: A manual personalization of your 3D cover. To buy this 3D template go HERE.
Ready? Let's start!
Important:

If something goes wrong – don't panic! You can always move one step backwards by pressing Ctrl (Command) +Z. If you need to move back more than just one step, it's also ok. Just click Ctrl (Command) +Alt +Z as many times as you need.
The easy way
Step 1: Open the '3d white cover.pds' file by double clicking on it. That's what you get.
Step 2: Take the jpg file of your cover and place it in the Photoshop window.
Some of you may see such window, so may not. It depends from the settings of your Photoshop. If you see it, just press ENTER or click OK.
Step 3: That's what you get.Now, just press ENTER.
Step 4: Double click on the name of your cover in the top layer.
Step 5: Change it for 'Cover' and press ENTER.
Step 6: In the package with your 3D cover find the file '3D white cover.atn' and double click on it. Don't worry that nothing happens!
Step 7: Click the 'PLAY' icon in the top left.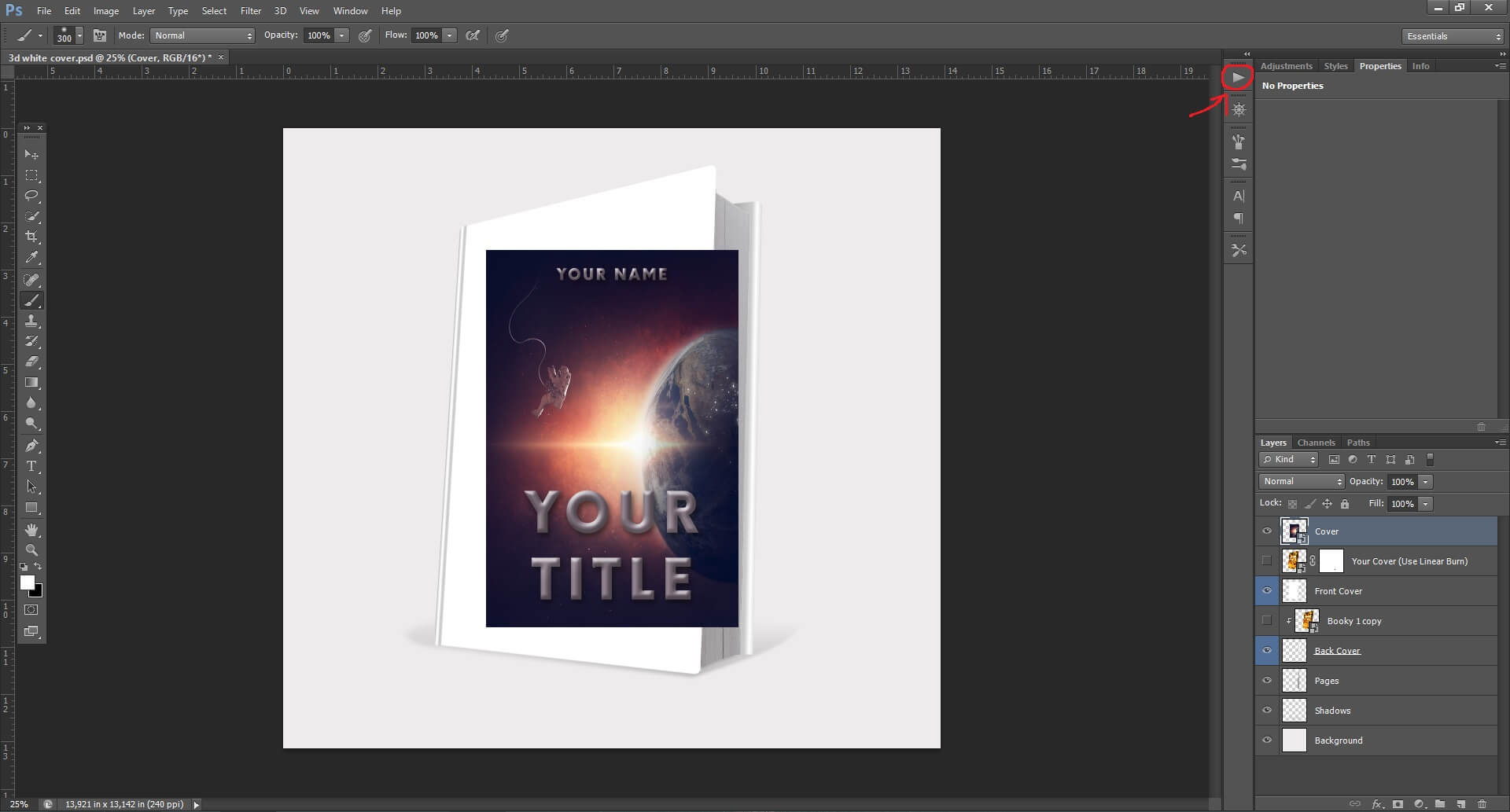 Step 8: On the list find the '3D white cover' and click on the small arrow.
Step 9: You will see the contents of the folder. Click on the '3D white cover' below and then click the 'PLAY' symbol at the bottom.
Voila! Magic has just happened! Your amazing 3D cover is ready. Now you need to save it.
Step 10: To do so, click File->Save As
Step 11: Choose the format and name for your new file. If you want to save a ready, editable Photoshop file choose the .psd format and click 'Save'.
If you need a jpg file, just choose this format from the list and click 'Save'.
Step 12: If you want a 3D cover with no background, first click on the eye next to the 'Background' layer to make it invisible.
Then go to File-> Save As. There choose the .png format.
And that's it! Your 3D cover is ready for sharing with your fans!