How to make your book stand out in a crowd?
Many self-publishing authors ask me that question. If 90% of Americans want to publish their own book, what are your chances to get noticed? How to make your book stand out in a crowd? You need something that catches the eye of your potential reader, that makes them stop for a moment and read your description, something original and interesting. What is it? An image!
Why is graphic so important? Whatever they say, people DO judge the book by its cover. An image catches the eye of people. That sounds obvious, but let's take a look at some stats to prove it: Instagram has twice as many active users as Twitter. Over 700mln people post an watch pictures every day, comparing to 328mln of people writing and reading tweets. Facebook posts with images see 2.3X more engagement than those without images. Tweets with images receive 150% more retweets than tweets without images. Snapchat users share 9,000 photos per second. Can you see what a powerful tool a good graphic is?
Eye-tracking studies show internet readers pay close attention to information-carrying images. In fact, when the images are relevant, readers spend more time looking at the images than they do reading text on the page. What is more, when people hear information, they're likely to remember only 10% of that information three days later. However, if a relevant image is paired with that same information, people retained 65% of the information three days later.
How can you use this knowledge to promote your book? Think about the graphics and images you use for it. What can you do better? Which graphics can you use?
1. Book cover
As I already said, people do judge the book by its cover, so this is your most important marketing tool. Make sure your cover is interesting, catchy and gives the idea of the genre of your book. Don't save money on it – you'll be using your cover on all the other promotional graphics, so it has to be really good!
2. 3D cover
3D covers are a very good way to make your book come to life. Even if you only published an e-book in the digital version, 3D cover can make it look more real and professional. Non-standard covers, funny or interesting, will catch the attention of your readers even more. And showing your book in a bookstore makes you more credible as an author.
3. Bookmark
Bookmarks are great! You can give them to your friends and family and when they read in public everybody around will see your book on the bookmark they are holding. You can also give them away on some readers' meetings – after all, you want to give them to people who read, don't you? What about people who read only on digital devices? Well, everybody loves to get something nice for free! A bookmark is a good way to inform them that your book is waiting for them somewhere online!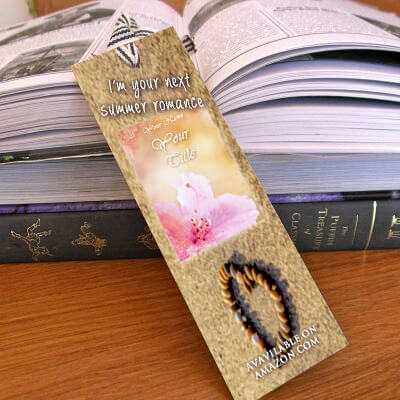 4. Facebook banner
Whether you have your fan page or you use your personal profile, when you publish a book you should shout it out loud! Everybody entering your profile/site should immediately find out about it! So make sure your Facebook banner is as it should be!
5. Facebook post
You should continuously remind your followers about your book or inform them about promotions, discounts or new books that you publish. To keep them interested, add some nice images, maybe something funny or containing a quote from your book? Use different images and check how your fans react to them.
6. Fan graphic
You can easily do one by yourself or use a 3D cover or any other promo image that you have. Print a poster, use it on a mug, notebook cover or anywhere else you like. Try to figure out how you can reach more readers and what kind of staff can be interesting for them. Think about creating a colouring book if you wrote a kids story or a mousepad for older readers. Your imagination is the limit!
Summing up, a good image is a key to a successful book promotion as this is what catches the attention of your readers before they even read your description. In this post I described how you can use different kinds of images to attract new readers. As you see, a good graphic is something essential. To make it easier to understand its importance, I prepared an infographic for you. How would that look if a post about images wouldn't have any? 😛
So, good luck with your book marketing! Now you know how to make your book stand out in a crowd, so let's do it! Share your promotional graphics in the comments, I'll be happy to see them! If you don't have ideas for your graphics or your budget is quite low, check out Booky's Shop.